Top News... my Edinburgh plays transfer to the Tabard Theatre in Chiswick, London W4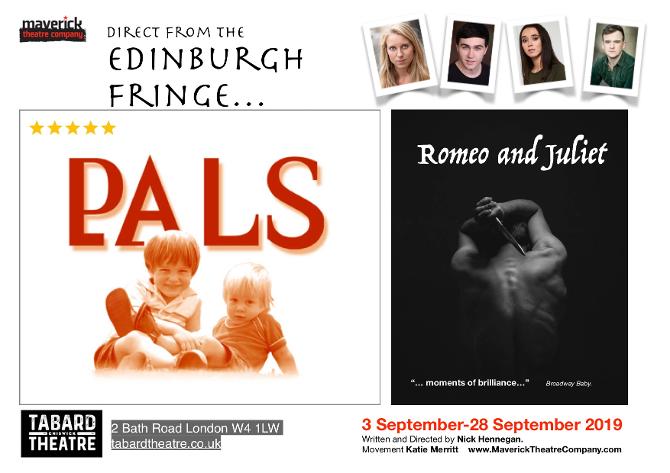 EDINBURGH FESTIVAL '19 - THIS TIME IT'S BLUE!
Yep. Back again at Edinburgh in August. This time with just two new productions. But in a bigger space - The Blue Room at Assembly, George Square - and with four actors, playing in rep a version of Romeo and Juliet and my play based on a true story about four kids growing up in Birmingham from the 50's to the '00's - P.A.L.S. (Pete, Andy, Linda and Sue) Watch this space...
EDINBURGH FESTIVAL '18 -UPDATE
All three of my shows received rave reviews at the Edinburgh Festival - and Hamlet-Horatio's Tale SOLD OUT! (It could have had something to do with the lovely Sir Derek Jacobi being the voice of my Old Hamlet, of course!) But I'm delighted, especially for my beautiful actors - Guy Masterson performing in his 25th Fringe and Kizzy Dunn, in her first! All three shows are touring in 2019. Email: tours @ mavericktheatre.co.uk for more details. And I've a couple of mad ideas for Edinburgh '19!
Nick Hennegan
Writer, Director, BROADCASTER and Producer.
Nick Hennegan was born in Birmingham, England.
His Mom said he was, "more trouble than all her other kids put together."
He felt sorry for his Mom. Being from a council estate housing project his career choices were limited. But he tried to do the right thing for his Mom and get a proper job after he left school at 15, but his Dad's factory closed and everyone got laid off, so he tried other things.
Now he mainly writes stuff. Although he has an M.A. in Creative Producing. And he's won a few awards directing. And worked at Shakepeare's Globe. And won a bursary from The Society of London Theatre for producing. And a Guiness Award through the Royal National Theatre. And A Sony Radio Award. And he was nomintated for 'Creative Briton'. And 'Midlander of The Year'. And his last screenplay was voted one of the top 20 in the UK.
His Mom might think this is showing off a bit, but Nick is quite relieved the factory route was shut off for him after school.
Contact Nick:
E-mail: nick@nickhennegan.com
Nick has a number of writing,theatre, film, radio, TV and digital projects he'd like to get off the ground.
Listen to Nick, not only on Resonance 104.4FM, but also on his short, topical, podcasts.
© Copyright Nick Hennegan 2019